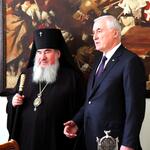 South Ossetia continues to deepen cooperation with the Russian Federation. This was stated by the Archbishop of Vladikavkaz and Alania Zosima after a meeting with the President of South Ossetia Leonid Tibilov, reported IA "Res" a press Secretary for the head of state Ghana Yanovskaya.
"The cooperation is very close and loyal course is selected. But I think that without spiritual cooperation it will be difficult. Our meeting brought together all of our positions on church polity, on the church life of the peoples in Ossetia. I think that we have taken right decisions on all matters. Everything is supported and accepted with understanding. And with God's help. I think that everything will be implemented. I am glad that the President conveyed us the Christmas and New Year greetings of the people of South Ossetia, our beloved Ossetian people. We pray for them, empathizing with them. We believe that South Ossetia will be thriving, developing and today's issues will be successfully resolved. We still have to do a lot. It is necessary to work hard and then we can move forward, "- said the archbishop.
In turn, Leonid Tibilov has noted that the rapprochement in the clergy he also considers necessary and important for his people.
"The meeting was held in a warm and friendly atmosphere. I take this opportunity to wish all members of the flock of the Russian Orthodox Church happy New Year. I wish Bishop Zosima success in his work for the benefit of a large flock. I would also note that I am proud that this flock includes the residents of South Ossetia, living in North Ossetia. We discussed the issues of the church life in South Ossetia. I believe that it is necessary to change it, because at a certain time, our church was under the patronage of the Synod of the Greek Church. Today, times have changed, there is an exceptional rapprochement between South Ossetia and Russia, North Ossetia and it is very important, how will approach the spiritual world of our states, Orthodox communities of South and North Ossetia. These issues have been discussed today. I believe that the first move has already been made and in 2015 we will be working to resolve this issue. We need today convergence in the clergy, and I think we will have the result, as all parties have a full understanding on these issues, "- said the head of state.