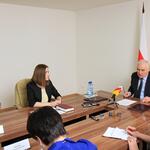 The question of accession of South Ossetia to the Russian Federation was discussed at a recent meeting with President Vladimir Putin, said during today's press conference in Tskhinval South Ossetian President Leonid Tibilov.
According to him, the heads of state noted that this problem was an internal affair of South Ossetia.
"The issue of accession of South Ossetia to Russia should not expose to political risks our strategic partner. This is a very important moment, "- he said.
Speaking about the process of implementation of the plan, which will allow the President of South Ossetia to appeal to the Russian leadership with the initiative to access to the Russian Federation, Leonid Tibilov has stressed that at the first stage it is necessary to amend Article 10 of the Constitution of South Ossetia.
"The amendments to the Constitution allow the President to appeal to the leadership of Russia with a proposal to create a single authorized federal agency," - he explained.
Answering the question about the date of holding the referendum, the President has noted that it will be conducted "not in a year, or two, not even in six months, but much more earlier."
"There are no any obstacles, so we'll prepare for the referendum", - he said. - We will put this question, and we will act in the future based on the current situation. "
Leonid Tibilov has added that this plan was also discussed with representatives of the Russian leadership and received positive feedback.