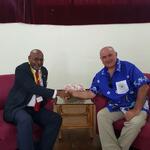 Minister of Foreign Affairs of South Ossetia Dmitry Medoev during his official visit to Nauru held a number of meetings with representatives of foreign delegations, the press service of the Foreign Ministry of South Ossetia.
The Foreign Minister of South Ossetia, in particular, held talks with the President of the Federated States of Micronesia, Peter Christian.
"During the meeting, the sides exchanged views on issues of mutual interest, stressed the importance of international cooperation in the fight against all forms of violence and wars that swept across many regions of the world, as well as the need to unite efforts to protect the environment," - the South Ossetian Foreign Ministry noted.
Dmitry Medoev told Peter Christian about the relations between Ossetia and Nauru, as well as about South Ossetia's cooperation with Russia.
During the talks with the President of Micronesia, the Foreign Minister of South Ossetia touched upon the issue of expanding South Ossetia's international cooperation with the countries of the region and searching for new partners.
Peter Christian, in turn, noted the positive nature of the presence of representatives of South Ossetia at the jubilee celebrations in Nauru.
On the same day, the Foreign Minister of the Republic of South Ossetia met with the special representative of the Government of the Republic of Indonesia, Nicolas Messet, during which they exchanged views on some topical international and regional issues.
Dmitry Medoev, in particular, acquainted Nicholas Messet with the history of the Republic of South Ossetia and its international situation.