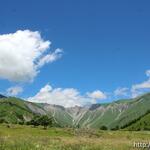 Tourists from Germany and Austria have arrived in South Ossetia to get acquainted with the sights of the Republic. As the married couple from Germany said in an interview with the Res news agency, they were travelling all over the Caucasus and at the same time decided to visit South Ossetia.
"Since we got acquainted with the most important places in Transcaucasia, we decided to visit South Ossetia for the sake of completeness," they said. - We did not have any information about this region, about what we could see here, there was no guidebook. Nevertheless, we knew that there is excellent nature, mountains and landscapes here."
According to another tourist - Christian from Austria, he is fond of the culture of the countries of the former Soviet Union.
"I visited all the regions of the former USSR, including the LPR," the tourist said. - I wanted to visit South Ossetia. Finally, I succeeded. This is my final destination."