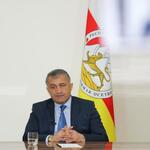 Cooperation between "United Ossetia" and the BAATH Party is an important moment in building up the Syrian-South Ossetian relations, said President of South Ossetia Anatoly Bibilov at a press conference in Tskhinval, dedicated to the results of his first official visit to the Syrian Arab Republic.
According to him, the signing of a cooperation agreement with the pro-presidential party in Syria has become a very serious step and a weighty application for "United Ossetia" as the leading political force of the Republic.
"Taking into account the role of the "United Ossetia" andthe BAATH in their countries, it was proposed to sign an agreement between the two political forces.
Relations between the parties will be developing, especially since there are points of contact and opportunities to implement joint projects," Bibilov said.
President of South Ossetia has also noted that the development of inter-party cooperation will play an important role in deepening the contacts between the two countries.
It should be reminded that during the first official visit of the President of South Ossetia Anatoly Bibilov to Syria, which lasted from July 23 to July 25, along with other agreements, t was signed a cooperation agreement between the party "United Ossetia" and the Party of Arab Socialist Revival (BAATH).