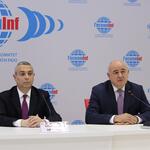 The agreement, signed between the foreign ministries of South Ossetia and Artsakh, involves holding interdepartmental, political consultations, exchanging views on international and regional issues said at a press conference in Tskhinval the Artsakh Foreign Minister Masis Mailyan.
"Today we have taken another step in terms of cooperation between the two states. Joint implementation of projects will allow us in the future to think about the signing an intergovernmental agreement at the level of presidents," said Mailyan, adding that the parties are already discussing the possibility of inter-parliamentary cooperation.
The Artsakh Minister did not exclude the possibility of cooperation in the field of education and culture, and also indicated the presence of specific projects that are planned to be implemented this year.
In turn, Foreign Minister of South Ossetia Dmitry Medoev has stressed that the agreement signed between the foreign ministries of the two republics was dictated by time, since the protocol signed in 2001 (the basis of bilateral relations) needed to be updated.
"The totality of changes that have occurred both inside and around our republics has led to the need to sign a larger agreement. We will think over the establishment of economic relations. The expediency of opening trade missions of the parties was also discussed, which would be a good platform for establishing and developing economic cooperation," said Medoev.
Regarding future plans, the Minister has added that the issue of the start of work of honorary consuls is also on the agenda.