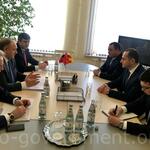 The delegation of South Ossetia headed by Deputy Chairman of the Government - Minister of Economic Development Gennady Bekoev returned from St. Petersburg, after participating in a seminar on the development of entrepreneurship and investment policy in South Ossetia, the government's press service reports.
Gennady Bekoev told about the results of the seminar.
"The leadership of the Republic, headed by the President, has set before the government the solution of tasks to improve the investment attractiveness of the Republic among the priorities. Constantly searching for new solutions, new opportunities.
Participation in the seminar, initiated by the Ambassador of the RSO to the Russian Federation, Znaur Gassiev, was very productive, both in information and in practical terms. During the seminar, which was held at the Chamber of Commerce and Industry of St. Petersburg, we were able to show the potential investment opportunities of South Ossetia, to establish new business contacts, both with the business community and the Government of St. Petersburg.
We told the seminar participants about the promising areas of development of the Republic, about all the preferences for investors, including at the legislative level, handed out advertising leaflets, showed a presentation video, as well as samples of industrial products, including the "Rastdon plants", the "Ironsan" Winery, "Vladimir Standard", "Bagiata filling plant", "Naturalplant".
I must note that the participants of the seminar showed a keen interest in domestic products, in life in the Republic of South Ossetia as a whole. Perhaps we will be able to export our products to St. Petersburg ...
I would like to express my gratitude to Znaur Nikolayevich Gassiev and the Government of St. Petersburg for organizing the event, a rich program, an extremely warm welcome and the opportunity to present our Republic," said Gennady Bekoev.
He has also noted that the event included the signing of a framework cooperation agreement between the chambers of commerce and industry of St. Petersburg and South Ossetia, and a cooperation agreement between the governments of St. Petersburg and the Republic of South Ossetia in cultural, scientific and technical other areas of activity.