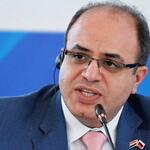 Syria expects to develop cooperation with Abkhazia and South Ossetia, in which it sees great potential, said Minister of Economy and Foreign Trade of the SAR Samer Al-Khalil.
"I believe that we will be able to further developing our cooperation within the framework of economic agreements with Abkhazia and South Ossetia in order to resolve customs clearance issues. Within five years we were able to find the right ways to quickly enter our markets. Cooperation opportunities are very large, but first, of course, there are certain difficulties, they need to be overcome, including the settlement of payments, customs issues and so on, "the Syrian Minister said at the session of the Yalta International Economic Forum (YIEF).
President of South Ossetia, Anatoly Bibilov, earlier announced about joint cooperation projects with Syria in the economic sphere.
Muhammad Samer al-Khalil also called on the SAR allies to develop economic and trade relations in order to overcome the economic blockade of Damascus.
"We all need to strengthen cooperation, build up economic and trade relations between friendly countries so that we can overcome the economic sanctions that are imposed and break the economic blockade," said al-Khalil, speaking at the Yalta International Economic Forum.
"We have today three important examples that we can use - this is, first of all, the Commonwealth of Syria with the Crimea, between the Crimea and South Ossetia and between Syria and Abkhazia. Over the past year we have been able to develop these relations, establish new channels of communication, in the field of economy, and in other areas ", - he pointed out.
The Fifth YIEF is taking place in Yalta from April 18 to 20. This annual business event in the economic sphere, held in the Crimea, is one of the four largest economic forums in Russia. The organizers (the Government of Crimea, the Yalta International Economic Forum Foundation, with the support of the Presidential Executive Office of the Russian Federation) expect over 3 thousand participants from about 100 countries of the world.