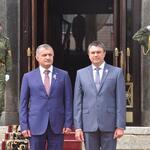 Pastchnic awarded orders and medals to friends of the LPR
The head of the Lugansk People's Republic, Leonid Pasechnik, at a solemn meeting dedicated to the celebration of the fifth anniversary of the Republic, awarded the first degree medal "For Merits" to the President of the Republic of South Ossetia Anatoly Bibilov.
"Now, each of the speakers, I am sure, will say and greet with such pleasant feeling and pride: "Hello, comrades, Russian citizens," said President Anatoly Bibilov. "I, as a military man, always accept awards in advance, and allow me, Dear Leonid Ivanovich, dear friends, to accept this award in advance.
South Ossetia recognized the Lugansk People's Republic and the Donetsk People's Republic. But if we take the theory of six handshakes, then by and large these Republics are recognized by the whole world. Because South Ossetia was recognized by the Russian Federation, which, of course, is recognized by all the states of the world. And I am sure that the process of recognition of both the LPR and the DPR is irreversible. "
The II-degree Medal "For Merit" was awarded to Minister of Foreign Affairs of the Republic of South Ossetia Dmitry Medoev.