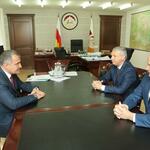 The development of further cooperation between South and North Ossetia have been discussed during the working meeting by President Anatoly Bibilov and Head of the Republic of North Ossetia-Alania Vyacheslav Bitarov, who arrived in Tskhinval to participate in the events dedicated to the 27th anniversary of the adoption of the Declaration of Independence of the Republic of South Ossetia.
Anatoly Bibilov noted the great importance of the celebrated date.
"Exactly 27 years have passed since that fateful day when South Ossetia made its irrevocable and final choice. The will of the people, expressed in a referendum and enshrined in the act of Declaration of independence of the Republic of South Ossetia adopted by the deputies of the legendary first convocation, determined the course of the entire further history of our Republic," he said.
For his part, Vyacheslav Bitarov thanked the President of South Ossetia for the invitation, noting that today's holiday is a significant event for both republics.
"This day is a symbol of the spirit of our Southern brothers, their heroic struggle for their freedom and high responsibility for the fate of future generations.  Residents of North Ossetia share and rejoice this holiday with you. And we believe that South Ossetia will continue to flourish and develop "he said.
The meeting was also attended by Ambassador of the Russian Federation to the Republic of South Ossetia, Marat Kulakhmetov.