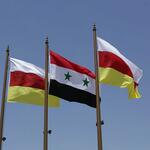 On the occasion of the first anniversary of the establishment of bilateral relations with the Republic of South Ossetia President of the Syrian Arab Republic, Bashar Assad, sent a telegram to President Anatoly Bibilov, the press service of the head of state said.
The head of Syria, addressing the President of South Ossetia, expressed "a desire to continue cooperation and make efforts, relying on the work done during the year, to strengthen bilateral relations in order to move towards new horizons of cooperation for the mutual benefit of our two nations."
According to Bashar Assad, "the dangers that threaten peace due to the irresponsible policy of the so-called great powers, and their deliberate violation of international law, require from all free nations and peoples to be independent in decision-making, unification and teamwork to ensure a safe and reliable future for new generations, free from the evil and domination of heinous terrorism. "