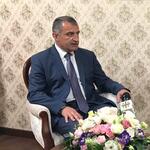 President of South Ossetia Anatoly Bibilov urged citizens of Ukraine not to give the former President of Georgia Mikheil Saakashvili even the work of a janitor.
"Otherwise, it will not be possible to avoid riots," he said.
According to the President, Saakashvili harms even when he does nothing. "The higher is the position of this politician, the more he harms," Bibilov said.
"If he is admitted to the Rada, then there will be not harm, but trouble. If Ukrainians want the Ukraine to be restless, then they can even appoint him a janitor. Even then, he will do everything to arrange mess in Ukraine," Tsargrad quotes him.
President of South Ossetia has added that for the time being there will be no improvement in relations between the Republic and Georgia.
"The reason is that Tbilisi continues to be under the "absolute power of America," he explained.
The South Ossetian leader said that Georgia should begin to declare its interests. In addition, "in order to improve relations, the country's leadership needs to engage in a dialogue that is not possible without concluding a memorandum on the non-use of force with South Ossetia and Abkhazia," concluded Bibilov.
A group of foreign journalists visited South Ossetia last week, among them the mass media of Syria and Iran.