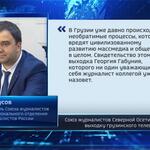 Journalists of North Ossetia are condemning! In the professional community, is being censured the behavior of the Georgian TV anchorman, Georgy Gabuniya, who has allowed himself an obscene language to the address of Russian President Vladimir Putin on the air of the Rustavi-2 channel.
In Georgia, irreversible processes have been occurring for a long time, which harm the civilized development of the mass media and society as a whole. The evidence of this is the trick of Georgy Gabunia, whom no self-respecting journalist will call his colleague any longer," said Timur Kusov, Chairman of the regional branch of the Russian Union of Journalists, director of the Alania State TV and Radio Company.
He has stressed that in Georgia - and we remember it well since August 2008 - professional and ethical norms of journalism are violated.
Temporary removal of Gabunia from conducting air Timur Kusov considers too soft measure and demonstration of anti-Russian sentiments cultivated in Georgia