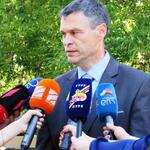 The South Ossetian party put forward a condition at a meeting in the framework of the IPRM to remove the roadblock until 6am Friday
South Ossetia at a meeting of participants of the IPRM (Incident Prevention and Response Mechanism) in the village of Ergneti demanded from Georgia to stop provocations at the border and remove the roadblock in the vicinity of the village of Tsnelis, the head of the South Ossetian delegation at the meetings in the IPRM format, Yegor Kochiev, told reporters.
"The delegation of South Ossetia interrupted and left the meeting during the discussion of this issue, as the Georgian side did not go to a constructive dialogue. The participants of the meeting dispersed without even starting to discuss the General agenda of the meeting, " he said.
Kochiev said that the South Ossetian party had put forward a condition for Georgia to remove the illegal roadblock before 6am Friday, "if the condition is not met, the Republic's authorities will take all legal measures to ensure the security of the people of South Ossetia and protect the state border."
The KGB of South Ossetia on Thursday said that Georgia continues to erect an illegal checkpoint at the border village of Uista (Tselis) in Znaur district.
"According to the information received by the Committee, the Georgian side has now withdrawn heavy construction equipment from the construction site of the police checkpoint towards Georgia. The works on equipping the police facility has not stopped, a new shift of workers has arrived, construction materials are being unloaded. The road leading to the roadblock is being re-equipped., "the KGB said.
They noted that " In connection with the provocative attempts by the Georgian security forces to illegally place a police checkpoint in the area of the village of Uista (Tsnelis) in Znaur district, in order to ensure the safety of the South Ossetian citizens, living in border settlements, the KGB combined detachment, riot police and other structures of law enforcement agencies of the Republic are at the scene of the incident
Last Wednesday, President of the Republic Anatoly Bibilov instructed the law enforcement agencies to put up additional roadblocks on the border strip in the vicinity of the village of Uista.