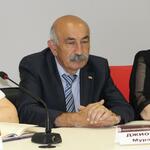 South Ossetia is demanding from the Georgian side to answer the question about the fate of the five citizens of the Republic who disappeared in August 2008, Murat Dzhioyev, Presidential Envoy for post-conflict settlement, said at a briefing in Tskhinval.
"We have accurate information that five of the seven citizens of our Republic who disappeared in August 2008 were in the hands of the power structures of Georgia. This is confirmed by the report of Thomas Hammarberg in 2010 and the reports of an independent expert - Dusan Ignatovich, who is involved in the search for our citizens at the invitation of the OSCE. We insist that the Georgian party give us an answer to the question, what has become of these young guys," the Envoy said.
According to him, the independent expert has so far submitted three reports on the issues of ascertaining the fate of the missing persons; the work in this direction is ongoing.
"Dushan Ignatovich has the opportunity to work with the power structures of Georgia and come to South Ossetia. From his reports it is clear that the three young people - Khachirov, Khugaev and Pliev were in the hands of the Georgian police, they were interrogated in the village of Meret, but their further fate is unknown. Another citizen, whose last name was Ikaev, was detained at a military base in Vaziani, Georgia, in August 2008, there is accurate information that he was brought to the village of Igoeti. Regarding our other citizen, Kabisov, it is known that in 2010 he was convicted in absentia by a decision of the Georgian court because in 2008 the Georgian security forces detained him, allegedly, in the village of Nikoz, then fined him in Gori, and he did not pay the amount of the fine. " - said the Envoy.
Dzhioev has emphasized that the South Ossetian party at the meetings in the IPRM format each time called on the Georgian party to assist in clarifying the fate of the missing persons.
"We are talking about the fact that the current Georgian authorities are not to blame for what happened in 2008, and if they would have helped us in clarifying the fate of our citizens, this would be a small sprout of confidence in the people of South Ossetia to the current Georgian authorities," - the diplomat noted.
He has added that the work to clarify the fate of citizens, listed to be missing since 1991 will also continue.
"No matter how much time has passed, this work will continue. Yes, many relatives of the missing citizens have despaired; many of the people we are searching for, have no relatives at all. But still, we will continue the search, as we understand the pain of every mother, every relative who has lost a loved one," concluded the Envoy.
It should be noted that since the 1990s 130 people listed to be missing in South Ossetia, since 2008 - 7 people.