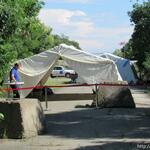 The delegation of South Ossetia for the third time in a week will meet with the Georgian party at a technical meeting to discuss the situation with the putting up of an illegal checkpoint in the village of Tsnelis.
As reported to IA "Res» by the Presidential Executive Offuce, the meeting as part of the Incident Prevention and Response Mechanism (IPRM) is scheduled for 15:00. The South Ossetian party hopes for a constructive position of the Georgian side on this issue, which will help relieving tension on the border.
On August 29, representatives of Tskhinval left the meeting in the IPRM format, as the five-hour dialogue did not lead to a compromise between the parties. The head of the delegation of South Ossetia, Yegor Kochiev, said that the South Ossetian party demanded from Georgia to remove the police post on the border in the vicinity of the settlement of Uista (Tsnelis), otherwise the South Ossetian side will take "legal actions to protect its citizens."
On August 30, the second three-hour technical meeting of the contact group within the framework of the IPRM was held in the area of ​​the village of Uista.
"The negotiations of the contact group have ended. Unfortunately, Georgia has not yet proposed a solution to this problem, and our (proposals) are being screened out by them," President Anatoly Bibilov told reporters at the end of the meeting.
He instructed the border guards to completely take control of the territory of this village.
"I hope that the Georgian leadership will comprehend the full importance of the situation and will do everything possible to defuse the instability that has arisen due to their illegal steps. A forceful solution to this issue is an extreme and undesirable measure. This is a careless attitude to these negotiations," Bibilov said.
The South Ossetian authorities strongly protested the provocative actions of Georgia, and on the basis of actual cartographic and other materials showed the provocative nature of the actions of official Tbilisi. The leadership of South Ossetia is taking all necessary measures to protect civilians in the Georgian provocation zone.