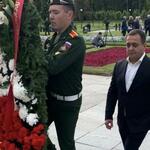 Ambassador of the Republic of South Ossetia to the Russian Federation Znaur Gassiev took part in the events dedicated to the beginning of the blockade of Leningrad.
September 8, 1941 the city was subjected to the first massive bombing, on the same day it was taken into the ring.
According to the Embassy press service, on behalf of the people of South Ossetia, as part of the mourning ceremony, Znaur Gassiev laid a wreath at the Piskaryovski Memorial Cemetery at the Mother -Motherland Monument.
The blockade of Leningrad, which began on September 8, 1941, lasted almost 900 days. Over the years of the blockade, according to various sources, from 400 thousand to 1.5 million people died. In the battles on the Leningrad, Karelian and Volkhov fronts, more than two thousand representatives of Ossetia were fighting, of which nine were awarded the high Rank of Hero of the Soviet Union.
The remains of 576 natives of Ossetia who perished defending the besieged Leningrad lie in the Neva land. In memory of them, on May 7, 2003, a memorial granite slab was opened at the Piskaryovski Memorial Cemetery with the inscription: "To the natives of Ossetia - the defenders of the besieged Leningrad".