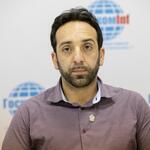 The representative of the Ministry of Foreign Affairs of South Ossetia in Sicily has been appointed a citizen of the Italian Republic Carmelo Scalizi, according to the official website of the Ministry of Foreign Affairs of the Republic.
The functions of the plenipotentiary will include the establishment of contacts between South Ossetia and Italy, the search for opportunities to implement joint humanitarian and economic projects.
"Particular attention will be paid to cooperation in the field of tourism, cultural exchange issues. The area of ​​activity of the envoy will also include maintaining contacts with local authorities, strengthening and developing friendship between the South Ossetian and Italian peoples, establishing ties with official missions of other states accredited in the Italian Republic. », the Foreign Ministry said in a statement.
Carmelo Tindaro Scalizi was born on November 30, 1980 in Catania, Sicily, Italy. In 1999, he was educated as a land surveyor in Riposto (Catania), in 2015 - he graduated from the Faculty of Law (Rome), in 2018 - joined the Bar Association of Madrid (Spain), then Lucernas (Spain).
Over the years, Skalizi held various positions on the commissions of the College of Surveyors of Catania, was a member of the city council of the same area.
He is currently Deputy Chairman of the City Council of Randazzo.
,