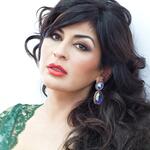 Ossetian opera diva Veronika Dzhioeva will perform at the Baltic charity ball in Riga on September 21, Ossetia News reports.
This year, more than three hundred guests from Latvia, Estonia, Russia, Austria, Germany, France, Iceland and other countries will come to the ball - representatives of cultural and business circles, diplomats, public figures. Guests will be able to hear the unique performance of two-star opera divas: Veronika Dzhioeva and Nadia Michael from Germany will perform on stage together.
Veronika Dzhioeva is the Honored Artist of Russia, one of the most sought-after singers not only in Russia but throughout the world. She performs at the Bolshoi Theater, as well as the theaters of Madrid, Hamburg, Brussels, Prague, Amsterdam, Geneva. Dzhioeva sings in many prestigious concert halls of Japan, France, England and other countries. Veronica is the winner of numerous music competitions, and her repertoire covers various musical styles and eras.
Авторство: