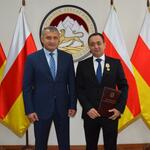 Ambassador of South Ossetia to Russia, Znaur Gassiev, was awarded the medal "In commemoration of the 25th anniversary of the Republic of South Ossetia", the embassy's press service reports. The high award was presented by President of South Ossetia Anatoly Bibilov, the ceremony took place on September 30, in Moscow.
The Ambassador was awarded "for a great contribution to the implementation of the foreign policy of the Republic of South Ossetia, long-term conscientious work and professionalism".
Anatoly Bibilov congratulated Znaur Gassiev and all the embassy staff on the significant event and all the past holidays, and also thanked for the service.
"I want to thank you for the work carried out by the embassy in Russia and for the work outside Russia. Our Ambassador has been doing a lot of work outside the Russian Federation, and this is very important for the Republic and for the people, for every resident of South Ossetia," said Anatoly Bibilov.
The President also thanked the Ambassador for the work being done with the South Ossetian students, for organizing and attentive attitude to each student.
"I have no right to not thank the Ambassador for such work," the President said.