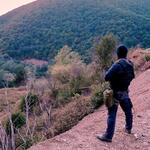 The materials at the Committee's disposal testify to the active work of the Georgian security forces in preparing for large-scale provocation on the state border
Over the past two months, Georgian special services deliberately disseminated misinformation, misleading not only their population, but also the political leadership of Georgia, the press service of the KGB of South Ossetia reports.
"The analysis of the information received by the State Security Committee of the Republic indicates that the Georgian provocateurs do not abandon their revengeful aspirations to create a hotbed of instability on the state border of South Ossetia with Georgia. In particular, the Georgian State Security Service restricts the freedom of movement of the Georgian activists, media representatives and NGOs to the border Georgian villages of Koda, Abano, Kobi, Tsagvli and Atotsi of the Khashur municipality, thereby depriving them of the opportunity to give an objective assessment of the situation in the area of ​​the incident, " the KGB said in a statement released Wednesday in the media.
At the same time, the KGB notes, the Georgian provocateurs justify their actions "by the imaginary threat from the South Ossetian border guards and, allegedly, the need to ensure the safety of the population of the above villages."
"In the information vacuum created by them, a distorted picture is formed that is advantageous for the Georgian side about the situation on the section of the South Ossetian-Georgian state border in the area of ​​the village of Uista, Znaur district of the Republic. Meanwhile, the materials at the Committee's disposal indicate the active work of the Georgian security forces to prepare for a large-scale provocation in this sector, thus, the Georgian leadership poses additional security threats, especially for the local south Ossetian population, as well as for the Georgian police officers located in the sectors directly affected by the border forces of South Ossetia, "the KGB said.
The KGB of South Ossetia draws attention and emphasizes that the presence of the Georgian police and a roadblock near the South Ossetian settlement significantly increases the risks of military danger and can lead to an open armed conflict.