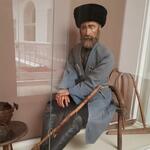 The exposition can be seen in the Russian Ethnographic Museum until November 20.
The exhibition is presenting the objects that are part of the collection of the Russian Ethnographic Museum on the Ethnography of Ossetians, who inhabit the central part of the northern and southern slopes of the Main Caucasus Range. Ossetians are the only Iranian-speaking people of the North Caucasus, whose culture goes back deep into the Indo-European and mountain civilizations, according to the "News of St. Petersburg."
. The Museum staff B. A. Bonch-Osmolovsky, A. A. Miller, E. N. Studenetskaya, representatives of the Ossetian intelligentsia, such as Z. P. Valaev, as well as well-known experts from other scientific institutions of the country, including B. A. Kuftin and E. G. Pchelina, took part in collecting of collections on the Ossetian culture. Evgenia Georgievna Pchelina (1895– 1972) devoted more than fifty years of her life to the archaeological and ethnographic study of North and South Ossetia.
Under her leadership, the research and restoration works were carried out on two prominent shrines of the Ossetian people - the sanctuary of Recom and the Nuzal chapel. Paying tribute to the merits of E.G. Pchelina in the study of the oldest strata of the traditional Ossetian culture, the exhibition includes objects of special sacred significance. These include a throne chair for an older man in the family and a beer cup brought from the expeditions by E.G Pchelina.. Another bowl acquired by B.A. Bonch-Osmolovsky, has a rich carved sculptural decoration. These vessels refer to festive feasts and libations with beer - a particularly revered ritual drink. The bowls are also a reminder of the traditional cult of nature.
The cult of animals is reflected in Ossetian ornamentation. So, the golden embroidery of the bashlyk- the male headdress - includes an image of a deer as a deified being. The shape of the, bashlyk dating back to the Scythian era, testifies to the ancient roots of individual elements of Ossetian clothing.