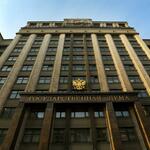 Deputies of the Parliament of South Ossetia will participate in the annual international conference: "The role of the interaction of factions of political parties and blocs in interparliamentary cooperation of the CIS countries." The Forum will be held on November 19 in the State Duma of the Russian Federation.
As part of a trip to Moscow, parliamentarians will also meet at the Federation Council of Russia.
As noted by the head of the Committee on Foreign Policy and Inter-Parliamentary Relations of the Parliament of the Republic of South Ossetia, Zaza Dryaev, in a commentary to IA "Res", the issue of recognizing the Ossetian people's genocide will be discussed at a meeting of the Federation Council.
"I will provide Russian colleagues with archival data on the genocide of the Ossetian people. We have already sent some materials on the genocide to them," Dryaev said.
The head of the Committee has noted that all necessary work will be carried out on this issue.
"We strive to recognize the genocide of the Ossetian people," he said.
According to him, the meeting will also discuss social issues. In particular, the Deputy Chairman of the Parliament, Alexander Pliev, will raise the issue of the experience of Russian specialists seconded to work in South Ossetia.