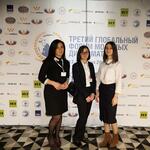 Representatives of the Ministry of Foreign Affairs of South Ossetia participated in the third Global Forum of Young Diplomats, organized by the Council of Young Diplomats of the Russian Foreign Ministry, held in Moscow on November 13-15. This was reported by the press service of the Foreign Ministry of South Ossetia.
"The main topic of the Forum, which brought together more than 130 delegates from 70 countries of the world, was the change in the global world order. The opening ceremony of the Forum was attended by the Chairman of the Federation Council Committee on Foreign Affairs of the Russian Federation Konstantin Kosachev and Minister of the Eurasian Economic Commission Sergey Glazyev.As part of the Forum was also held a meeting of delegates with the Deputy Minister of Foreign Affairs of the Russian Federation Alexander Grushko, "the South Ossetian Foreign Ministry said in a statement.
In addition, an official ceremony of signing the Memorandum on cooperation between the organizations of young employees of the Russian Foreign Ministry and the United Arab Emirates Foreign Ministry (UAE) was held within the framework of the Forum.
Within the framework of The Forum were also held plenary sections, which discussed topics such as the role of the media, the Internet and humanitarian organizations in modern international relations, the 75th anniversary of the Victory over fascism, the 75th anniversary of the UN, and the image of a modern young diplomat.
On the final day of the Forum, took place a discussion of the draft Charter of the International Association of Young Diplomats, the delegates approved and adopted the final document of the Forum.