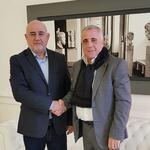 South Ossetian Foreign Minister Dmitry Medoev discussed with representatives of an Italian law firm the possibility of assistance in preparation of a lawsuit against Georgia over the genocide of South Ossetians in 1920. The Minister informed TASS about this following the results of his trip to Italy.
"In Naples, I held talks with a well - known advocacy group, which discussed the support of our claim to Georgia," Medoev said. He has explained that the firm's experts will study the documents and materials for conducting legal analysis and bringing them into line with international law.
The Foreign Minister recalled that next year all of Ossetia will mark a mournful date - the 100th anniversary of the tragic events. "This is a very important date for us - it occupies a special place in the historical memory of our people. Nothing is forgotten. Today's Georgian state is responsible for these crimes, since back in the 90s it declared itself the assignee of the Georgian republic of the 1918-1921 type. There is no statute of limitations for such crimes," Medoev said.
In 2020, South Ossetia will mark the centenary of the Ossetian genocide committed by the government of the independent Georgian Democratic Republic in 1919-1920. The authorities of the Republic have created a special commission, which is developing an action plan by this date.
In addition to Naples, the Foreign Minister of South Ossetia traveled to Milan, where a meeting of the initiative group for the creation of the Italy-South Ossetia-Alania friendship association was held. "The idea of ​​creating such an association belongs to Marisella Miatella, an activist of the support group of South Ossetia, she is also elected its president," Medoev shared.
The main objective of the association will be to develop cultural ties between South Ossetia and Italy, organize exhibitions of Ossetian artists in Italy and Italian in South Ossetia, hold round tables and conferences on the history of the ancestors of Ossetians - Alans, and establish contacts between businessmen of the two countries.
In Italy, a representative office of South Ossetia has been operating for several years, which is engaged in political work and cultural relations with Italy. It opened in 2016 in a private house in the center of the Italian capital. The Republic of South Ossetia, according to Georgia, is part of it, gained independence from it in 1990, and after 2008 it was recognized by six UN member states, including Russia.
In November 2013, South Ossetia appealed to the governments of Italy and the Republic of San Marino for recognition of independence. The Italian authorities do not recognize the independence of South Ossetia, support the territorial integrity of Georgia and the dispute settlement process in the spirit of the Geneva discussions.