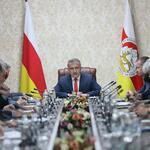 The meeting of the 1920 Genocide Memorialization Commission, the centenary of which will be celebrated in South Ossetia next year, was chaired by President of the Republic Anatoly Bibilov.
The head of state noted that everything possible should be done to perpetuate the memory of the victims of the genocide carried out by Georgia against the people of South Ossetia and make every effort to convey to the world community about this fact in the history of the Republic.
"We should hold the events dedicated to the centenary of the genocide, and almost all ministries and agencies, the executive and legislative branches of government should take part in them, and tell the whole world about the fact of the genocide of the Ossetian people. The world community must know "its heroes" who are today committed to some kind of democratic ways of development, and this is far from the case. Moreover, the genocide did not end in 1920, but continued in 1989-92, 2004, and August 2008 was the apogee. The operation of the Georgian troops was called a "open field", which was not associated with growing wheat there, but was supposed the complete extermination of the Ossetian nationality. And this is evidenced by thousands of refugees, hundreds of killed and missing," said Anatoly Bibilov.
He has reminded that to this day about three hundred of our missing compatriots are not found yet.
The head of state believes that it is necessary to develop a series of measures that will show the depth of the tragedy of all periods of genocide. "The commission has been created for this and should work closely. The main composition of the commission also needs to organize a working group, whose representatives will be directly involved in the preparation and development of projects for all the events, and the main commission will approve them," Bibilov said.