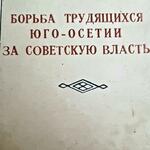 To former priest of the Kornis parish A. Kokoev. According to the decision of the Council of Peasant Deputies, you are considered to have been dismissed from January 1, 1918, and at the same time fined a thousand rubles for embezzlement of public money, and therefore again I ask, firstly, to release now the premises and, secondly, to hand over the fine to a policeman Sandro Tedeev. Otherwise, decisive and final measures will be taken for the non-receipt of money, and non-release of the premises.
Chairman of the Kornis Peasant Council V. Khasiev.
Archive of the South-Ossetian Research Institution d.66, l. 218. A certified copy.
8 April, 1918 8.
The document shows that peasant Soviets existed in South Ossetia at that time.
From the book "The struggle of the working people of South Ossetia for Soviet power" (1917-1921). Documents and materials. Compiled by I.N. Tskhovrebov.