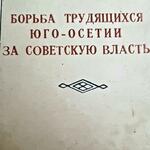 Comrade Gagloev, returning to Tiflis from a trip to the North Caucasus, drove through the uprising areas of Dusheti district. His account of the road impressions sheds light on the methods by which this rebellion was prepared.
"Near Dushet," Comrade. Gagloev told the employee of the «Struggle", - armed gangs attacked my car with a scream and shots, threw passengers out and "requisitioned" the car. With a small knot, I had to walk along the mountains and forests along the circular road to Kaspi, making a total of about 80 versts. Near Akhalgori, I spent the night in the forest, since there was a rebel headquarters in the village with the captives they had captured, and I did not dare to enter there. Near Dushet, I met two horsemen, one of whom was Russian, the other a young Georgian. The Russian stopped me and began to question where and why I was in this area. I said that I was traveling from Vladikavkaz to Tiflis, but since they were not allowed into Dushet, I went along this road. Fortunately, he was illiterate and did not require documents. He assured me that not only Dushet, but Mtskheta and the entire railway to Gori were in the hands of the Bolsheviks. Apparently, he was the leader, because, at his order, the young peasants went down to the battle. The peasants were only partly armed. The fellow traveler called the leader "Comrade Fedor." From the story of this Fedor it turned out that among the rebels there were many people from the Abesadze detachment; the rebels were expecting help from Vladikavkaz, for which they were intending to clear the Georgian Military Road from the Mensheviks ...
He shared with me his plans. According to him, the Armenians will join the rebels, seize Tiflis, overthrow the government and join Transcaucasia to Russia. Then everyone will know that Russia is still strong ...
To my question, how will he fight with the Germans, who also have views of the Caucasus, they proudly declared that they would cope with the Germans ...
He assured the peasants that it was good in Russia. He promised them all the benefits in case of clearing the Georgian Military road and joining Georgia to Russia.
The peasants, exhausted by hunger and longing for order, apparently, sympathized with the uprising against the Red Guard. The Red Guard, according to them, is a noble guard which wants to disarm the peasants and then rob them of their hard-won land.
According to the leader, there are at least five thousand rebels in the county."
1918 June 29.
The newspaper "Struggle" July 30, 1918
From the book "The struggle of the working people of South Ossetia for Soviet power" (1917-1921). Documents and materials. Compiled by I.N. Tskhovrebov.