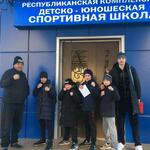 The Donetsk People's Republic will host an international boxing tournament dedicated to the 32nd anniversary of the creation of the Donetsk Golden Gloves boxing sports club. South Ossetian athletes will also take part in the competition. As the Deputy Director of the boxing school Irbeg Kokoev has noted in a commentary to the Res agency, five boxers will go to the competition.
"Dmitry Bagaev, Andrei Kasaev, Georgy Kabisov and Alexei Kochiev will go from Boxing Sports School, and one more athlete of the coach Hamlet Gabaraev - Yan Yaralov will present the Olympus Sports Palace," said Kokoev.
According to him, the boxers from Nagorno-Karabakh Republic, Abkhazia, the DPR, LPR and the regions of Russia will take part in the international tournament.
Athletes born in 2006-2007 and 2004-2005 will take part in the competition.
The tournament will be held from February 20 to 23.