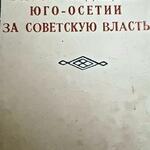 An order to the troops of the 10th Red Terek Army on May 7, 1920. Vladikavkaz, a map of 10 versts ... Are Kirov and Ordzhonikidze at the device or not. Here, Comrade Kvirkvelia, the order is transmitted to the Caucasian front. How to be, give an order ahead or Comrade Ordzhonikidze will listen to me.
Kvirkvelia: a comrade from Kraycom who had just arrived brought a letter from comrade Nazaretyev, I inform you: on May 1, because of the indignation of the soldiers who did not want to go to the front, there was an attempt to seize power in Tiflis, but failed. On our side, one was killed, 2 wounded and 3 arrested. Governor-General Sulakvelidze shot them last night. Sandro Makharadze, who led the operation, escaped. The government is introducing a state of siege today. The work is now very difficult, but the mood of the masses and units of troops is growing daily. A coup in Batum is expected, the British command is making concessions, the Batumi workers are overwhelmingly on our side. On May 8-10, press through North Ossetia on the Gori district, this completely disperses the strength of the government.
Central State Archive of the Ministry of Internal Affairs of the North Ossetian Autonomous Soviet Socialist Republic, the Tersk Regional Revkom. Case No. 58, . Telegraph tape.
1920 May 7.
From the book "The struggle of the working people of South Ossetia for the Soviet power" (1917-1921). Documents and materials. Compiled by I.N. Tskhovrebov.