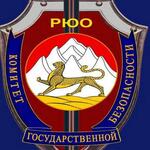 Currently, the outbreak of the COVID-19 coronavirus pandemic in Georgia remains the main external security threat to the Republic of South Ossetia, the KGB reports on Tuesday.
"As of April 7, 195 coronaviruses infected were officially detected in Georgia, 2 of them died, 370 people remain under the supervision of doctors, 4708 people are in quarantine mode. Foci of infection are recorded along the entire border of South Ossetia and Georgia, in particular in Sachkher, Khashur, Karel, Gori and Mtskheta municipalities. Samegrelo-Zemo Svaneti region is on the verge of an epidemiological explosion. Marneuli and Bolnisi municipalities are cordoned off by troops. There is a surge of xenophobia towards Georgian citizens of Azerbaijani nationality, "- the statement says.
At the same time, the KGB notes that among those infected there are people who previously lived in Lininger district of South Ossetia and left for Georgia after the country's authorities made a decision to close the border crossing point in a simplified procedure "Razdaekhaen".
"At the same time, there is every reason to believe that the Georgian authorities are hiding the real situation with the spread of coronavirus and the total number of infected people from the wider international community. In particular, currently only 2,700 tests have been conducted in Georgia, which is 692 tests per million inhabitants. According to these indicators, this country is in the penultimate place in the world. The absence of large-scale population testing results from the Tbilisi regime leads to a serious distortion of information about the true size of the pandemic and its possible consequences for all countries in the region. ", - stated in the text.
The KGB notes that the situation is aggravated by the fact that, using the state of emergency regime, the country's authorities actually paralyzed the activities of independent media, NGOs and civil society activists who previously monitored the situation along the border line of the RSO with Georgia and ensured that objective information was received by all the interested parties.
"Against this background, the desire of certain Georgian politicians to provide "humanitarian assistance" to South Ossetia is particularly suspicious. We believe that this activity is directly related to the attempt to implement the so-called "emergency package for fighting coronavirus" allocated by the European Bank for reconstruction and development (EBRD) in the amount of 1 billion rubles. Euro, as well as financial assistance to Georgia from international organizations such as UNDRR, USAID and others, " the report says.