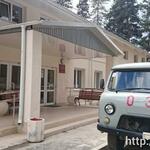 As of the morning of May 12, the total number of quarantined people is 300 people," said Marina Kochieva, chief sanitary officer at a meeting of the operational headquarters.
"There are 155 people at the Republican Medical Center, 29 at the hotel "Alan" and 18 of them are citizens and 11 drivers. In the districts of the Republic there are 73 citizens. In addition, another 18 cadets arrived in the evening of May 11, of which 7 were placed in the infectious diseases hospital and 11 in the Dzau district hospital," she said.
Kochieva has reminded that there are 23 laboratory-confirmed cases of coronavirus, and about 45 laboratory studies are awaiting results.
"A total of 388 studies were conducted, among them there are repeated ones. On Saturday, our Russian colleagues in the laboratory came to us. Currently, they are providing methodological and advisory assistance to South Ossetian laboratory doctors. They also brought with them the test systems of two companies and consumables, in which we experienced a small deficit," the epidemiologist emphasized.
She has added that cargo arrived from Stavropol to South Ossetia, it is already in North Ossetia, in which there are 12 test systems that are designed for approximately 800 studies, and they still have 500 tests in the laboratory.
"We were also sent reagents, for laboratory tests without which test systems do not work. We are provided with everything necessary, but our Russian colleagues promise to provide assistance in the future as well," Marina Kochieva said.
The sanitary doctor has added that the Stavropol laboratory assistants carried out an audit of the laboratories in South Ossetia and prepared the calculations for the necessary additional devices. Kochieva has also noted that they borrowed some instruments from the State Veterinary and Phytosanitary Surveillance Service.