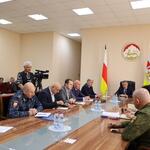 President of South Ossetia Anatoly Bibilov instructed the Attorney General Uruzmag Dzhagaev to ensure that supervision of the implementation of restrictive measures not to be weakened, but strengthened.
"There is joint work between the Prosecutor's Office and the Ministry of Health, but the order for drug provision should not be put off, and we should already have a complete picture on this issue. The interaction between departments and ministries should be strengthened," the President said.
As for the movement of goods and cargo, Anatoly Bibilov instructed Deputy Prime Minister-Minister of economic development Gennady Bekoev to improve the crossing procedure so that there would be no tension with food, basic necessities, and construction materials.
"In South Ossetia there should be no problems in providing the population with essential goods. Decisions must be balanced, and actions confident. The confidence of the leadership of the Republic is always transferred to the population, and it is basically existing. All measures taken were correct and fully justified themselves," the President said.
At the meeting of the operational headquarters, the conditions for quarantined citizens were also discussed. It was decided to allow relatives, if necessary, to bring parcels to citizens who are in quarantine: food, personal hygiene products and more. At the same time, violators of the order, persons who try to bring alcohol to medical facilities will be held accountable.