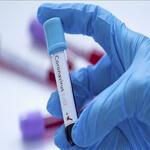 In South Ossetia, four more new cases of coronavirus were detected among cadets who returned from Russia, Anna Gagloeva, Deputy Head of the Committee for Protection of Consumer Rights and Welfare of the Population, told IA "Res" on Saturday.According to her, four more people recovered - these are two cadets, a nurse and one person who arrived through the Ministry of Foreign Affairs, all of them were discharged from the hospital and sent home.
"During the day, the laboratory confirmed the diagnosis of a new coronavirus infection in four citizens-cadets who are under quarantine," Gagloeva said.
The first three cases of COVID-19 infection in the Republic were recorded on May 5. The total number of cases of coronavirus during this period is 76, of which 40 people have recovered and been discharged to date.
According to the data of June 13, there are 36 cases of coronavirus in the Tskhinval infectious diseases hospital.
"In total, 252 people are under observation, 142 of them in medical facilities: in the Republican Medical Center - 23, in the isolation ward - 50, in the old building of the maternity hospital - 33, in the village of Dzau - 15, in Leningor - 21. Also 26 people are on self-isolation" - said Gagloeva.
21 builders are also under quarantine.
There are restrictions on the border between South Ossetia and Russia until June 30. The measures taken do not apply to Russian military personnel, citizens of South Ossetia, returning to the Republic according to a specially developed schedule through the consular department of the Ministry of Foreign Affairs.