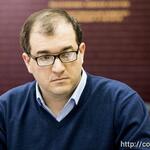 The resigning of Ketevan Tsikhelashvili as the State Minister for Reconciliation was caused by failures in Georgia's policy in the South Ossetian direction, which were directly related to the activities of its department, said Yuri Vazagov, a member of the expert council of the South Ossetian Foreign Ministry, in a comment to IA" Res " .
"In particular, we are talking about serious problems with the implementation of the program "Step to a Better Future ", which received wide enough financial support from Western countries and international organizations. As expected, the real return turned out to be incommensurable with the promised results. One of the reasons for the failure of greater part of the projects funded by Western donors has become such a familiar phenomenon for Georgia as grant-eating, in which Ms Tsikhelashvili has shown genuine professionalism, "said Vazagov.
According to him, the main content of Tsikhelashvili's activities was reduced to numerous meetings with Western diplomats and representatives of international organizations, during which the ex-Minister of State unsuccessfully tried to get funding for various projects.
"As practice has shown, the use of these funds did not bring any benefits to the so-called refugees or residents of the border villages of Georgia. What benefits have the villagers from gender or environmental projects, if there is no banal pharmacy in the village, there is no water and roads. Again, what is the use of the museum of the Russian "occupation" if they don't have basic conditions and at least minimal social support in conditions of unemployment," Vazagov said.
He has added that Tsikhelashvili tried to compensate for the consequences of chronic grant-eating by falsification of statistics and regular provocative statements that irritated South Ossetia and Abkhazia.
"As an example, one can cite her attempts to organize an absurd public relations campaign, distorting the data on the situation with the spread of coronavirus in South Ossetia," the department head explained.
Another result of Tsikhelashvili's activities, Yuri Vazagov continued, is the aggravation of interethnic contradictions in Marneuli and Bolnisi regions, in Samtskhe-Javakheti and in the Pankisi Gorge.
"Instead of real support for the rights of national minorities, the Ministry of Reconciliation implemented frankly useless projects in these regions that benefited only their initiators. It is highly doubtful that Tsikhelashvili's successor will be able or willing to make changes to the practice that has been established for many years, so we should not expect any novelty in the activities of this Department, as well as an increase in its effectiveness. And this means for Georgia a guaranteed failure of all programs in the South Ossetian direction, " he stressed. - Well, the former State Minister will have to find a use for her irrepressible imagination as the Ambassador of Georgia to Austria, where Tsikhelashvili was sent as to the honorary exile," Vazagov concluded.