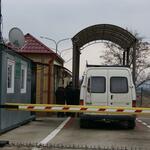 The State Security Committee of the Republic of South Ossetia informs that in order to prevent provocations and ensure security on the state border of the Republic of South Ossetia with Georgia, since September 2019, the places of crossing the state border in a simplified manner remain closed.
"The established measures are a natural and necessary response to the illegal checkpoint in the area of ​​Uista (Tsnelis) in Znaur district, as well as to the unfavorable epidemiological situation in the Georgian region," the KGB said. "Considering that the sole purpose of the restrictions is to ensure the security of South Ossetia, and, realizing the need for certain categories of citizens to travel to Georgia, including seriously ill people, pensioners, etc., the competent authorities of the Republic consider and make individual informed decisions on each resident who needs to visit the territory of the neighboring state. At the same time, the main conditions for satisfying citizens' appeals are the urgent and urgent need to cross the border, as well as the exclusion of the possibility of harming the security of South Ossetia. "
The Committee has noted that residents can obtain relevant information on the procedure for crossing the South Ossetian-Georgian border for the period of the current measures to ensure security at the border by contacting the head of the district administration, as well as the district representative of the Border Service of the KGB of the RSO. For seriously ill citizens, there is a mechanism for leaving through the ICRC.
At the same time, the KGB reminds that the leadership of the Republic of South Ossetia supports the initiative to implement the right and freedom to choose a further place of residence in accordance with the current legislation of the Republic. In particular, this applies to applicants who graduated from the Leningor secondary school and decided to continue their education at the Georgian universities.