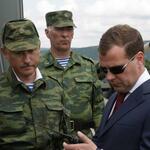 It was absolutely unacceptable to allow Transcaucasia to become a powder keg, said Dmitry Medvedev, Deputy Chairman of the Russian security Council and leader of the United Russia party, speaking about the decision to protect Abkhazia and South Ossetia in 2008.
Medvedev on Saturday called "essentially a declaration of war on the Russian Federation" the events of 12 years ago in Abkhazia and South Ossetia, "when Russia responded to the criminal behavior of the then president of Georgia."
"Today is 12 years since our country responded to the criminal behavior of the then president of Georgia. Russia responded to the actions of the scoundrels, who gave the order to open fire on the houses of civilians, on defenseless old people and children, on Russian peacekeepers who ensured peace and security, including the residents of Georgian villages, "- said Medvedev, the then President of Russia, on his page" VKontakte ".
"That is why then I made a difficult, but the only possible decision - to defend Abkhazia and South Ossetia, first protecting them from aggression, and then, at the request of their citizens, recognizing their complete independence. Otherwise, Transcaucasia would have turned into a powder keg, that for Russia, which had always stood for the preservation of lasting peace in neighboring states, it was absolutely unacceptable, "he said.
According to Medvedev, "Russia has always acted and will continue to advocate peace and stability in the border states." "Each of our decisions and actions is dictated by this absolutely sincere desire. At the same time, Russia, and this must be clearly understood, will never allow attacks on our citizens, wherever it happens. Our response will always be absolutely adequate to the prevailing circumstances in order to ensure stability and security both in our country and throughout the world, "Medvedev said.
On the night of August 8, 2008, Georgia fired at South Ossetia from Grad multiple rocket launchers, Georgian troops attacked the Republic and destroyed part of its capital, Tskhinval. Russia, defending the inhabitants of South Ossetia, most of whom had Russian citizenship, sent troops into the Republic and, after five days of hostilities, ousted the Georgian military from the region.
Russia on August 26, 2008, after Georgia's armed aggression against Tskhinval, recognized the sovereignty of South Ossetia and Abkhazia. Russian leaders have repeatedly stated that the recognition of the independence of the two former Georgian autonomies reflects the existing realities and is not subject to revision. However, Tbilisi refuses to recognize the independence of the republics.