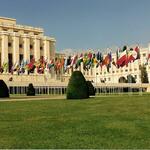 Participants of the Geneva Talks discussed the range of issues included in the mandate
At the meeting with the delegation of the Geneva Discussions, the South Ossetian participants drew attention to the continuing policy of the Georgian authorities to discredit South Ossetia in the eyes of the international community, the revanchist statements of certain Georgian political leaders.
As noted in the office of the plenipotentiary envoy of the president for post-conflict settlement, on Wednesday took place a meeting of members of the South Ossetian delegation at the Geneva discussions on security in Transcaucasia, led by Plenipotentiary Murat Dzhioev, with a delegation of co-chairs of the Geneva discussions.
"The participants of the meeting confirmed the importance of the Geneva format and the Incident Prevention and Response Mechanism (IPRM) operating within its framework, and spoke for the continuation of communication in the Geneva format and the development of negotiating dynamics, taking into account the persisting threat of a pandemic," the Ministry reports, adding that during the meeting the South Ossetian participants outlined a range of issues within the mandate of the Geneva discussions.
"Much attention was paid to the issues of security and stability in the region, in particular, in the territories adjacent to the state border between the Republic of South Ossetia and Georgia," the press service of the Plenipotentiary office reported.
Discussing the situation on the state border, the South Ossetian participants reiterated the proposal to the Georgian party to start discussing border delimitation issues, which could remove a number of issues, including the humanitarian ones.
Other humanitarian issues were also raised, including clarification of the fate of the missing residents of South Ossetia. Regret was expressed in connection with the next Georgian resolution on refugees adopted by the UN, blocking the discussion of this problem on the platform of the Geneva discussions.