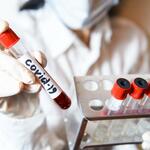 Over the past day, 23 people have been tested for coronavirus in the laboratory of the South Ossetian Consumer Supervision Committee, 5 tests showed positive results, the head of the Committee Marina Kochieva told IA" Res".
"Five new cases were detected in a day, two people were placed in the isolation ward of the Republican Medical Center in the" red zone "(there are 4 people with coronavirus there), three more are being treated on an outpatient basis," she said.
Marina Kochieva, the head of the South Ossetian Consumer Inspection, herself, had previously contracted the coronavirus and switched to a remote mode of working.
"Testing in the laboratory of the Committee continues, in just over the entire period of the pandemic on the morning of September 30, we have registered 100 cases of coronavirus," she said.
Since April of this year, more than 5.5 thousand tests for COVID-19 have been carried out.
The chief sanitary doctor asked the population to take precautions, not to travel outside the Republic, without urgent need.