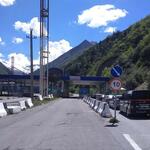 President of South Ossetia Anatoly Bibilov discussed in Moscow the issues of cargo clearance at the Russian-South Ossetian border, the press service of the head of state reports.
"Problematic issues related to the clearance of goods at the customs post of Nizhniy Zaramag were discussed at a meeting at the Ministry of Economic Development of the Russian Federation, which was attended by President Anatoly Bibilov, Acting Prime Minister Gennady Bekoev, Chairman of the Customs Committee Murat Tskhovrebov for the South Ossetian part; For the Russian part, the meeting was attended by Deputy Minister of Economic Development Mikhail Babich, Deputy Chairman of the Federal Customs Service Vladimir Ivin, "the press service noted.
During the meeting, was defined a "road map" for solving problematic issues arising from the transportation of goods from the Russian Federation to the territory of the Republic of South Ossetia.
It was noted that the solutions worked out will be aimed at eliminating obstacles and difficulties at the Lower Zaramag customs.
President Anatoly Bibilov went to Moscow on a working trip at the beginning of the week, and the Republic's government delegation is also in the Russian capital.
It should be noted that the problem at the crossing point of the Russian-South Ossetian border "Lower Zaramag" with the transportation of various goods from North Ossetia to South Ossetia has been arising periodically for several years in a row. Motor vehicles are not allowed through the post of the Federal Customs Service of the Russian Federation due to problems with customs clearance of the goods transported by them.
The authorities of the Republic have raised this issue more than once, and at present, together with their Russian colleagues, appropriate measures are being taken to resolve the issue.