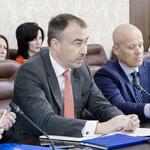 Co-chairs of the EU, UN and OSCE discussions Klaar, Cihan Sultanoglu and Rudolf Michalka are arriving in Tskhinval on Thursday to discuss the agenda of the next round of discussions, which was supposed to take place in March, then was postponed to October, but did not take place due to the situation with the coronavirus.
"On Thursday, we expect the co - chairs to visit as part of preparations for the upcoming round of the Geneva discussions, "Murat Dzhioev, Presidential Envoy of South Ossetia for post-conflict settlement and head of the South Ossetian delegation to the Geneva discussions, told IA "Res". He has noted that the meeting will be held without any media representatives due to the difficult epidemiological situation in the Republic, in compliance with all sanitary standards, after which a briefing will be given.
The Geneva discussions on security and stability in Transcaucasia are scheduled to take place on December 10-11, exactly one year after the last round.
The Geneva discussions on Transcaucasia are the only platform for dialogue between Sukhum, Tskhinval and Tbilisi, based on the agreements between the presidents of the Russian Federation and France, reached after the act of Georgia's aggression in August 2008. Representatives of South Ossetia, Abkhazia, Georgia, Russia and the United States, as well as the UN, the European Union and the OSCE observers, take part in the talks in Geneva.
The main goal of the discussions is the signing of a legally binding agreement on the non-use of force between South Ossetia and Georgia, Abkhazia and Georgia. The last round took place in December 2019.