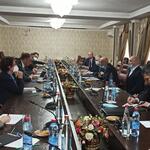 The Georgian side at different levels, taking advantage of the availability of various international platforms, continues to create an unfavorable image of South Ossetia, the South Ossetian participants in the Geneva discussions on security in Transcaucasia said at the meeting with the co-chairs who had arrived in Tskhinval on Thursday.
"We have noted the negative, offensive, untrue statements that were made recently at the OSCE Permanent Council, at the same time, the South Ossetian delegation believes that, despite the existing background of the pandemic, many security and humanitarian issues need to be resolved. In particular, the attention of the co-chairs was again drawn to the fact that the mandate of the Geneva Discussions included resolving the refugee problem, which is not being resolved after, starting in 2010, Georgia annually began to submit its politicized resolution on refugees to the UN rostrum, "said the head of the South Ossetian delegation Murat Dzhioev,
According to him, the South Ossetian delegation once again called on the co-chairs to render assistance so that the resolution, which clearly does not work for stabilization in the region, is not brought up by Georgia on the UN rostrum.
"And then the solution to the problem of all refugees, starting from 1990, could be considered on the platform of the Geneva discussions," he said.
Dzhioev has noted that the meeting also raised issues of clarifying the fate of the missing citizens of South Ossetia.
"We have noted that despite the pandemic, this situation is vital and relevant for everyone, and we asked the co-chairs to help resolving this issue.
We have been informed that a meeting took place with the chief prosecutor of Georgia, who promised to give an answer," said the head of the South Ossetian delegation.
He has added that the issue will not be removed from the agenda until the fate of the missing citizens of South Ossetia is clarified.
The Geneva discussions on security and stability in the Transcaucasia are scheduled for December 10-11, exactly one year after the last round and are the only platform for dialogue between Tskhinval, Sukhum and Tbilisi.