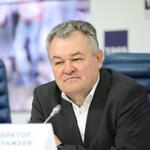 Rector of the O.E. Kutafin Moscow State Law University, Viktor Blazheev, was awarded the Order of Honor by the decree of the President of South Ossetia Anatoly Bibilov.
According to the press service of the President and the government of the Republic, the award to the rector of the Moscow State Law Academy, Honored Lawyer of the Russian Federation was presented "for his great personal contribution to the development of friendship and cooperation between peoples, active assistance in the training of highly qualified personnel for the Republic of South Ossetia and in connection with your 60th birthday" .
The decree of the head of state was signed on December 29, 2020.