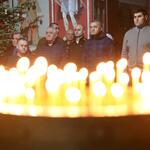 On the feast of the Holy Epiphany, President of South Ossetia Anatoly Bibilov attended the Divine Liturgy, which took place in Tskhinval in the Church of the Holy Trinity, the press service of the head of state reports. The festive divine service was performed by Father Sergiy (Kokoev).
At the end of the festive liturgy, with a special rite, Father Sergius illuminated the water on the Malaya Liakhva River in the village. of Dmenis in Tskhinval district. Together with other parishioners, Anatoly Bibilov took part in the Epiphany bathing.
In his address to the people, the President has noted that God sent his Son to earth in the name of saving people in order to bring mutual understanding and goodness to our world. He also emphasized that by bathing in baptismal water, a person receives spiritual cleansing and the grace of God.
"People who have bathed in Epiphany water on this day do not get sick, the water that we collect does not lose its healing power. There is a special power in this day. And may all the inhabitants of South Ossetia and all Orthodox be blessed! " - said the head of state.