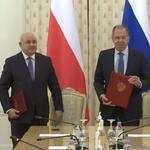 Russian Foreign Minister Sergei Lavrov presented South Ossetian Foreign Minister Dmitry Medoev with the Russian Foreign Ministry's badge "For Interaction" for his significant contribution to the development of relations between the Republic of South Ossetia and the Russian Federation, as well as to strengthening security and stability in Transcaucasia.
According to the press service of the Foreign Ministry of South Ossetia, the presentation took place during a meeting of the heads of the two departments at the Reception House of the Russian Foreign Ministry at Spiridonovka.
"During the negotiations, which took place in a traditionally friendly and constructive atmosphere, the results of joint activities for 2020 were summed up. It was noted that despite the difficult epidemiological situation in the world, eight intergovernmental and interagency agreements were signed between our countries, as well as two agreements with the regions of the Russian Federation.
During the meeting, the "Plan of consultations between the Ministry of Foreign Affairs of the Republic of South Ossetia and the Ministry of Foreign Affairs of the Russian Federation for 2021-2022" was signed.
The heads of the foreign ministries reaffirmed their disposition to further develop inter-ministerial interaction and strengthen foreign policy coordination in the international arena. The parties focused on security issues and non-resumption of military aggression against South Ossetia by Georgia, which is becoming especially important after the recent bloody war in Nagorno-Karabakh. In addition, they noted the importance of continuing the Geneva Discussions as the most important international platform for defending the positions of South Ossetia.
Dmitry Medoev thanked for the high assessment of his activities and invited Sergei Lavrov to visit South Ossetia at any time convenient for him," the press service said.
The meeting was attended by First Deputy Minister of Foreign Affairs of South Ossetia Andrei Tskhovrebov and Ambassador of the Republic of South Ossetia to the Russian Federation Znaur Gassiev.