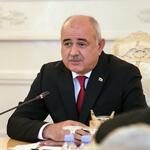 The escalation of the conflict in Nagorno-Karabakh has made security issues of particular relevance for South Ossetia. This was announced on Monday by Acting Minister of Foreign Affairs of the Republic Dmitry Medoev in talks with Russian Foreign Minister Sergei Lavrov.
He has noted that Tskhinval will continue to work in the Geneva discussions on security and stability in Transcaucasia. "The issues of security and non-resumption of confrontation and military aggression become especially urgent for us after the war in Nagorno-Karabakh," Medoev stressed. "The South Ossetian side will continue to insist on the need for Georgia to sign a binding document that would exclude the use of force in international affairs and bilateral relations." ...
He also expressed regret that the pandemic had made adjustments to the work of the Geneva Discussions, but noted that the level of communication was maintained. "In 2020, delegations did not gather so often, several meetings were postponed, but it was possible to maintain a working level of communications, including with the co-chairs of the discussion, and there was an opportunity to discuss topical issues that were of interest to the parties," said the Acting Foreign Minister of South Ossetia.
The Geneva discussions o Transcaucasia are the only platform for dialogue between Sukhum, Tskhinval and Tbilisi, based on the agreements between the presidents of the Russian Federation and France. The talks in Geneva are attended by representatives of Abkhazia, Georgia, Russia, the United States and South Ossetia, as well as the UN, the European Union and the OSCE observers, as co-chairs.
The main goal of the discussions is to reach a legally binding agreement on the non-use of force between Abkhazia and Georgia, South Ossetia and Georgia. The last round took place on December 10-11, 2020.