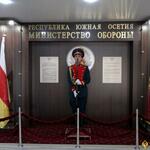 The armed forces of South Ossetia are celebrating 28 years since the day of formation. The Ministry of Defense was created by the resolution of the Supreme Council of the RSO dated November 17, 1992. In January-February 1993, a staffing structure was approved, which began to be staffed.
Officially, the Ministry was formed on February 22, 1993, but it was decided to celebrate the holiday a day later, combining it with the traditional holiday in honor of the defenders of the Fatherland.
At the origins of the Ministry were Valery Nikolaevich Khubulov (Khubul) and Alan Sokratovich Dzhioev (Parpat), who previously commanded some of the most efficient self-defense detachments. Thanks to their energetic activity, were created command and control bodies and the main headquarters of the armed forces, a motorized rifle battalion, an artillery battalion, and combat and logistics support units.
The backbone of the Ministry's subdivisions consisted of detachments of the people's militia and the national liberation movement, which repulsed Georgia's aggression against South Ossetia in those years.
In 1993-2004, the Chief of the General Staff was Ulifan Yeliozovich Tedeev, a career soldier who graduated from the Military Academy of Communications and served in the Soviet Army for over 30 years.
Later, the leadership of the Ministry changed several times. Since 2016, the Ministry is headed by Ibrahim Gasseev, who at various times held the positions of platoon commander, Deputy commander and commander of a special-purpose company, commander of a separate reconnaissance battalion, First Deputy Minister in the South Ossetian army.
When in August 2008 South Ossetia was subjected to the largest attack, the soldiers of the Ministry of Defense showed examples of genuine heroism and courage, confirming that a sense of duty and love for the Motherland, as before, are the main features of the essence of the Ossetian warrior.
Defender of the Fatherland Day is a favorite holiday not only of all real men, but also of all our people, who know the true value of peace and tranquility in their land.
Our dear soldiers, valiant defenders of the Motherland, we are proud of you! Thanks to your selfless actions, our Republic was able to defend its independence!
It is necessary to preserve the memory of the heroism of the defenders of the Fatherland and pass it on to future generations.
Our dear defenders, please accept our congratulations on the 28th anniversary of the formation of the Ministry of Defense of the RSO and on the Defender of the Fatherland Day! We wish you and your families well-being and a peaceful sky, health and success.