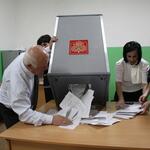 Polling stations in the presidential elections of South Ossetia have been closed; the voting in the Republic came to an end.
As stated by the Chairman of the Central Election Committee Bella Plieva, at 18:00 a turnout in the second round of presidential elections in South Ossetia amounted to 63.31%. Later the CEC will present the more accurate data on the turnout of voters. She has said the vote went off without significant violations, "though there were some remarks and misunderstandings at the polls, including power outages, but the CEC quickly reacted to them and they were promptly removed without affecting the course of voting."
"The polling stations have been closed. Counting of votes will take place under the supervision of representatives of the staff of all the presidential candidates at the polls, the data will be summarized in the five territorial election commissions. The results of the will of citizens living abroad will be accumulated in the territorial commission of Dzausky district, which is the closest district to the border of Russia. Then all the data of the territorial commissions will be transmitted to the CEC of South Ossetia", - said the chairman of the CEC Bella Plieva.
34 thousand 940 people have been registered in the lists of voters in South Ossetia, 40,000 ballots have been printed.
Two candidates were aspiring to the state high office in the second round of elections - former Chairman of the KGB, Leonid Tibilov and the Commissioner for Human Rights under the President of the Republic of South Ossetia David Sanakoev. Preliminary election results will be announced on April 9. The first data of the CEC is expected to be announced at 23:30 pm. Then the Central Election Committee will establish the voting results and draw up a protocol in five days, after which it will officially publish the final results.
In the second round the elections are considered successful, if they are attended by more than 30% of the electorate.The winner is determined by a simple majority of votes.