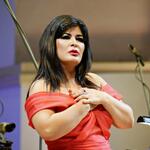 A famous Ossetian opera singer Veronica Dzhioeva was included in the final list of nominees for one of the main music awards of Russia. As reported by ossetia.news, she will compete for the award in the nomination "The Vocalist of the Year in Classical Music".
Dzhioeva has been included in the top five for the performance of "Fly away on the wings of the wind" from the opera "Prince Igor". Among the nominees are also Anna Netrebko, Alexey Tatarintsev, Khachatur Badalyan, Hibla Gerzmava, MiyaGi & Endgame.
The rappers from Vladikavkaz are presented in the nomination "Best hip-hop artist" with the track I Got Love. In the same category are also Jah Khalib, Basta, Moth and the group "Mushrooms".
The names of the winners will be announced at a ceremony to be held in the Kremlin Palace on December 13 with the support of "Grammy". The best of the best will be presented a personal statuette of the author's work by Alexei Sechenov and Antoine Simani. The ceremony will be attended by stars of the Russian music.
During the ceremony in the foyer of the palace will be presented the Grammy Museum exhibition, specially brought from the US, reflecting the development of the national music award of the United States and the world's most famous musical award from the moment of its establishment to the present day.
Фото: classicalmusicnews.ru