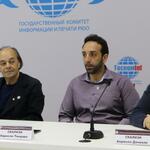 Deputy head of the Italian city of Randazzo, where more than 300 kinds of wine are made, has compared Ossetian wine with the Sicilian one, told reporters Deputy head of the city of Randazzo Carmelo Tindaro Scalizi at a briefing in Tskhinval.
"We have tasted the Ossetian wine – it is very good, it resembles the Sicilian wine in taste," said the Deputy head of Randazzo.
On the eve of the meeting, President of South Ossetia, Anatoly Bibilov, during a meeting with the Italian delegation, presented them bottles of the Ossetian export wine produced at the "Ironsan Winery".
According to Carmelo Tindaro Scalizi, Randazzo is famous for its wine, there are about 300 kinds of wine produced here. "Our wine cannot be compared with anything. Its taste is determined by the peculiarity of the location of our city - it is located at the foot of the active volcano, and the grapes grown there acquire a unique taste," he explained.
Scalizi has also noted that Randazzo also produces olive oil.
The delegation of the province of Catania of the Italian Republic, headed by Deputy head of the municipality of the city of Randazzo Carmelo Tindaro Scalizi, arrived in Tskhinval, where on Wednesday the Cooperation Agreement was signed between the capital of South Ossetia, Tskhinval and the Italian city of Randazzo.